In conservation planning, it is important to identify lands that no longer support much of their native vegetation cover, and therefore are not suitable for biodiversity conservation. Urban, Rural Residential and Cultivated Agriculture comprise the Converted Lands depicted on the map below.
This does not mean that these areas have no conservation value. They may represent important restoration and conservation opportunities, especially when considering streams and associated riparian areas - both important conservation targets. However, the project focused on large contiguous blocks of habitat while developing the Conservation Land Network (CLN). This was accomplished, in part, by not setting conservation goals for the Converted Lands so they were infrequently selected by Marxan, the site selection software.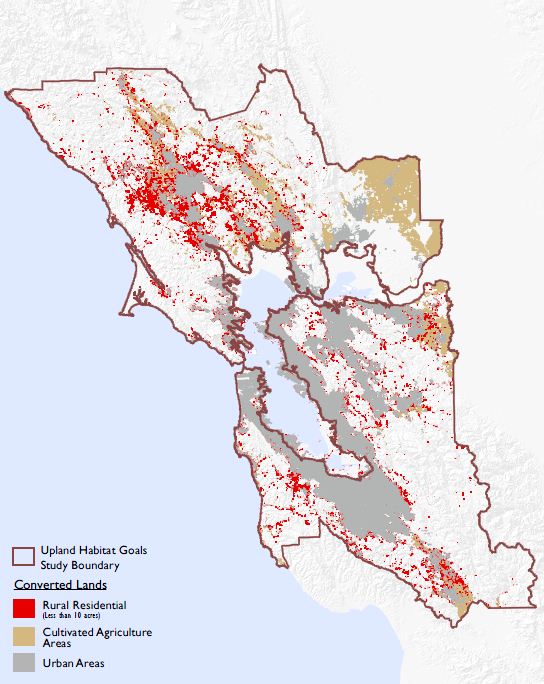 Converted Lands were included in the CLN because Marxan was programmed to select an entire 100ha hexagon (one planning unit) if more than 10% of its area was comprised of existing protected lands or it contained a conservation target needed to meet the 90%, 75%, or 50% conservation goals. The project team chose to erase these Cultivated Agriculture, Rural Residential, and Urban areas from the CLN, but retain the target locations because if accurate, they may be important for maintaining or re-establishing connectivity in these disturbed areas. The areas retained during the erasing process are called Fragmented Areas of the CLN and shown in light purple. More details about the erasure process can be found in Chapter 3: Approach and Methodology of the full report.
Urban and Cultivated Agriculture data came from the Department of Conservation Farmland Mapping and Monitoring Program (FMMP). The project team developed the Rural Residential data layer by identifying all parcels in the study area less than 10 acres in size.
Approximate acreage figures for these land use categories are:
Urban = ~720,000 acres
Rural Residential = ~150,000 acres
Cultivated = ~370,000